What is license plate recognition?
License Plate Recognition is a technology capable to recognize and read vehicles' license plates through optical character recognition on images or videos, always considering plate variations from Country to Country, according to their peculiarities. LPR cameras capture videos or images of license plates and convert in real-time optical data into digital information. Results can then be sent to external systems.
Usually, ALPR systems use infrared lighting to allow the camera to take pictures at any time of day and night without causing any disturbance to the drivers.
Applications of tattile cameras
According to the different needs, it is possible to have several types of LPR cameras that include additional features to the classic license plate recognition. Tattile LPR cameras can cover a wide range of applications: 
Speed enforcement (average/instantaneous)

Traffic Light enforcement

Vehicle profiling (Brand Class Color & Model)

Tax and insurance control

Traffic monitoring

Vehicle tracking 

Control of Low Emission Zones 

Bus Lanes Enforcement 

Access control

Parking management

Mobile patrolling

Mobile parking enforcement

Free flow tolling 

Stop & Go tolling 

…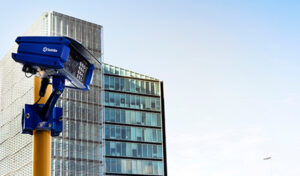 Types of cameras
In its products' portfolio, Tattile has a wide variety of ANPR cameras:

Differences between tattile lpr cameras and general cctv cameras
Tattile LPR cameras are characterized by fixed optics configured according to the customer installation layout and application. That provides a great added value compared to the CCTV cameras since fixed optics grant higher reliability as they are not subject to mechanical solicitations whilst CCTV are.
Most important is that, in general, CCTV cameras capture a continuous video stream that, only on a second stage, is processed at a Backoffice level to obtain the license plate recognition. This leads to the necessity to have additional computational power outside the camera. While on Tattile ALPR cameras, all the process is performed onboard and the data (already processed) can be sent directly to the end-user.
Lpr cameras system
An LPR cameras system is a set of cameras working together as parts of an interconnecting network; the cameras work simultaneously, and the generated data are all sent to a central database.
Why choose tattile lpr cameras
Tattile LPR cameras are known for their capability of being entirely configurable according to customer needs.
The ALPR solution is always tailor-made with outstanding embedded technology. Tattile solutions grant the continuous availability of pre-sales and after-sales support: we will follow you in every step of your project.