September 20, 2022 – from ITS Daily News
ITS WORLD CONGRESS 2022 – LOS ANGELES
A visit to the Tattile booth is a must. There is a range of new innovations on show, including optical Axle Counter, Inside Inspection, the Stark application framework layer, and the new Vega hardware platform created to host AI-based applications.
Tattile cameras are used around the world in a wide range of ITS applications, but the company has moved forward what is possible.
For free-flow tolling operations, Tattile also has advanced what was considered state-of-the-art with a new concept of axle counting based on AI.
The company's above-ground mounted Axle Counter features an on-board dedicated neural network processor that allows fast image processing capability to detect vehicles and their characteristics. This includes axles, raised axles status and speed estimation at any time of the day or night. Importantly, the system doesn't require external triggering since it detects vehicle axle counts by image analysis, thanks to its processing capability. The Axle Counter provides the resulting metadata together with the reconstructed image of the vehicle, giving evidence of the transit to the tolling operators.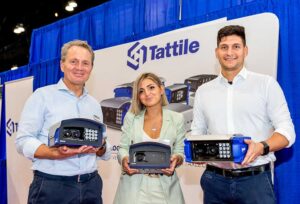 In the case of Tattile's Inside Inspection, it is an important, ground-breaking innovation in high occupancy vehicle tolling enforcement as well as seat belt and phone use enforcement. Additionally, it provides a tool for statistical data collection for safe driving behaviours and security applications. There are other significant benefits because the system uses an artificial intelligence (AI) algorithm for best performance in detection and recognition of front-seat vehicle occupants.
Photo: Corrado Franchi (left) Laura Cardaiolo & Davide Romano of Tattile
Booth 1715