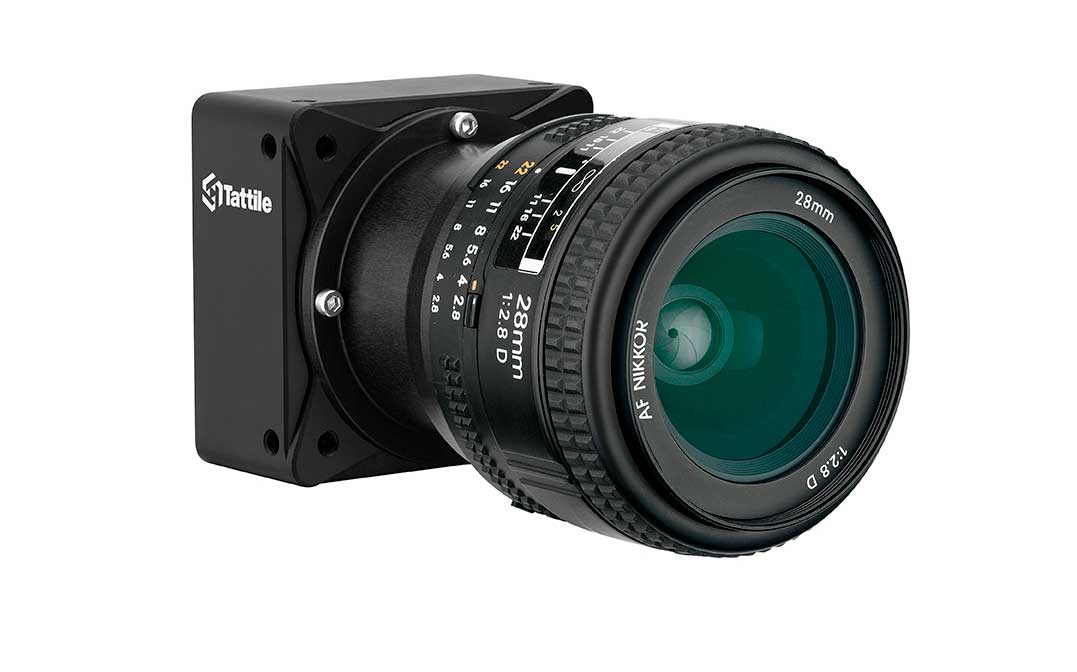 Line Scan Camera TAG-7
CameraLink & GigE Vision Line Scan Camera TAG-7 Series
TAG-7 is a family of technologically advanced linescan cameras, designed to meet the most demanding requirements of today's machine vision applications.
The TAG-7 cameras are available with both GigE Vision and CameraLink interfaces, with high-class mono,and color sensors.
The CameraLink versions have a speed up to up to 80 KHz and are targeted to high-speed applications.
They support Base, Medium, Full and 80-bit modes and PoCL (Power over Camera Link) for easier cabling.
The TAG-7 GigE Vision cameras supports longer cables than Camera Link, do not require a frame-grabber and have a speed up to 49 KHz. They can be easily integrated to any GigE-compliant processing unit such as the M180 GigE Vision Controller.
The TAG-7 cameras have an internal FPGA that can be customized so to tailor specific requirements.
All the TAG-7 cameras have the same compact size (only 62x62x30mm) and the same rugged and stable enclosure.
Key points
Linear CMOS sensors with resolutions from 2K up to 8K, mono and color
High Speed: up to 80 KHz line rate
GigE Vision and CameraLink protocols
Internal FPGA for image pre-processing
Compact size of 62x62x30 mm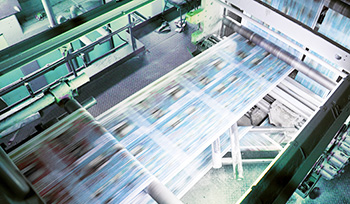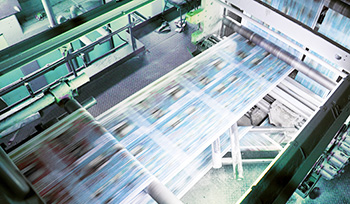 Print Inspection
Web Inspection
Sorting industry
Ceramics
Semicondutor
TAG-7
The TAG-7 is the new-generation line scan camera platform for Industrial application.
Available with resolution of 2K, 4K and 8K, both monochromatic and color as well as GigE or CameraLink interface, the TAG-7 cameras are suitable for all vision applications.
FPGA
Thanks to Tattile's technology based on FPGA, this line scan camera can execute different preprocessing algorithm in "real time"
Compact size
Its compact form allows easily integration into any machine and production line, especially for multi-camera systems.
GigE Vision
Thanks to GigE Vision Interface, the camera can be easily integrate into a vision system, without using a frame grabber. TAG-7 GigE runs with a frame rate up to 49 KHz.
CameraLink
TAG-7 CameraLink versions support all configurations (Base, Medium, Full and 80-bit), with a Line Rate up to 80 KHz. PoCL (Power over CameraLink) functionality allows a quick and easy installation.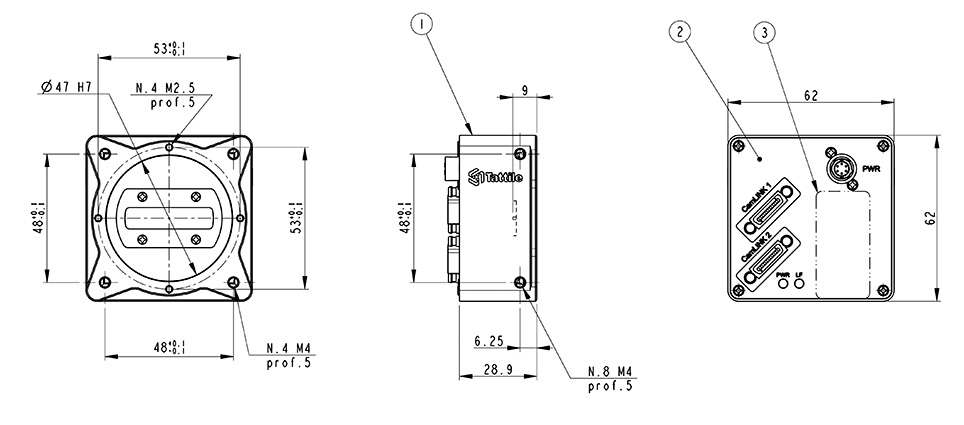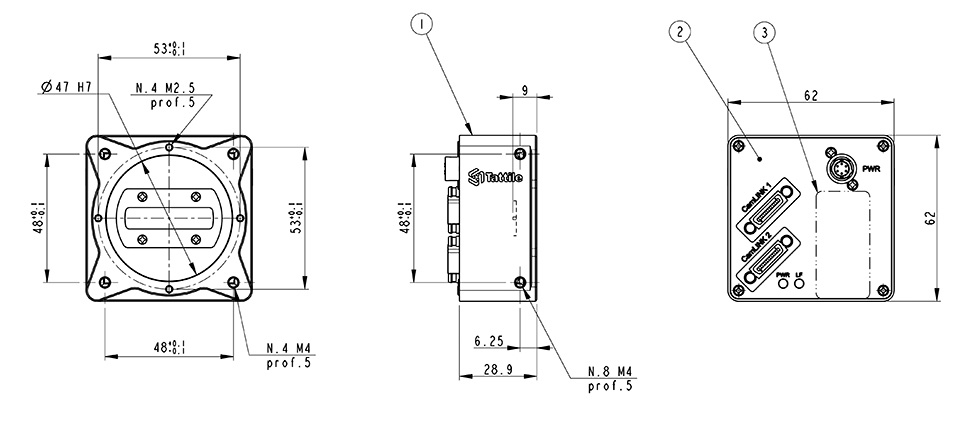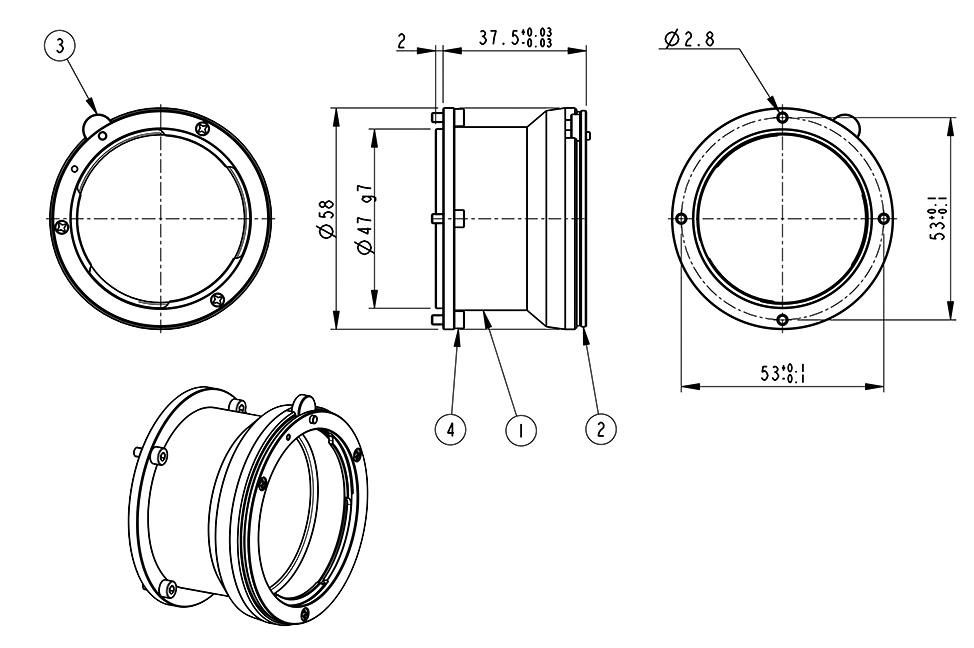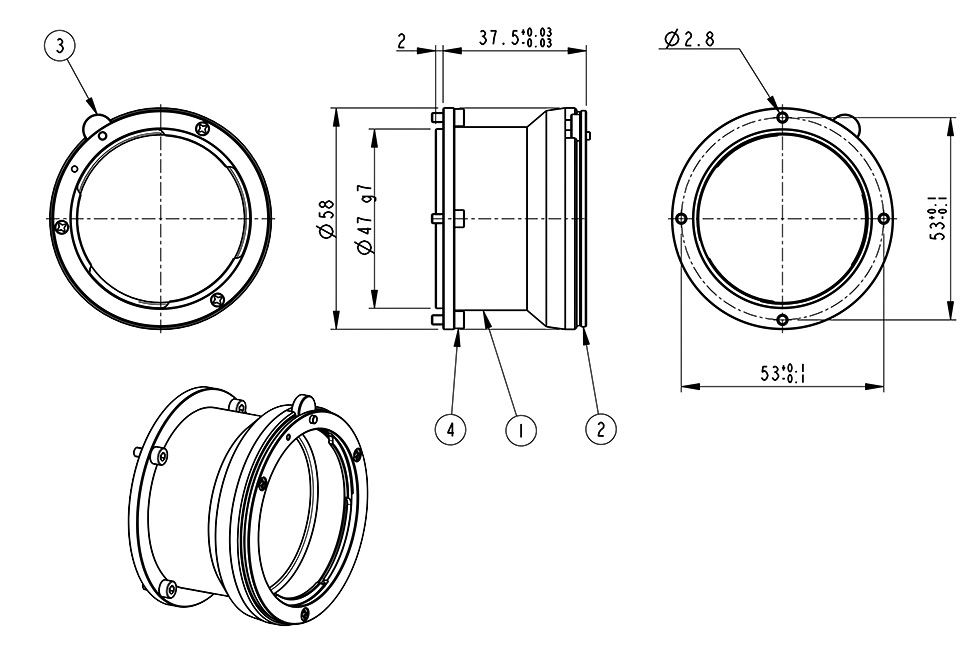 MODEL
Monochrome
Bilinear
Resolution
2048
4096
8192
2x2048
2x4096
GigE Line Rate
49 KHz
24 KHz
12 KHz
24 KHz
12 KHz
CLink Line Rate
80 KHz
Type
Mono
Mono
Mono
Color
Color
Sensor type
CMOS Awaiba
Pixel size (μm)
7 x 7
7 x 7
3.5 x 3.5
7 x 7
7 x 7
Pixel Bit Depth
8 / 10 / 12 bit
FPGA
Altera Cyclone IV 40K LEs
Lens
F-mount, C-mount
Sync
External trigger / Free run
Digital inputs
3 RS422 (only GigE version)
Digital outputs
2 RS422 (only GigE version)
Power supply
+12/24 VDC
PoCL (only CameraLink version)
Power consumption
3.6 W
Dimensions
62x62x28.9
Conformity
CE, RoHS
TAG-7 GigE Series – Part Numbers
F01625
2048@49000 Mono
F01631
4096@24000 Mono
F01647
8192@12000 Mono
F01627
2×2048@24000 Color
F01643
2×4096@12000 Color
TAG-7 Camera Link Series – Part Numbers
F01626
2048@80000 Mono
F01632
4096@80000 Mono
F01648 
8192@80000 Mono
F01628
2×2048@80000 Color
F01634
2×4096@80000 Color