Industrial Smart Camera S100 / S50
Compact Smart Machine Vision Camera S100/S50 Series
S100 / S50 is Tattile' series of Smart Cameras dedicated to Machine Vision applications for different markets as packaging, automotive, semiconductors, food processing, etc.
Completely "in-house": designed, developed and manufactured by Tattile, S100 / S50 Series has highly sophisticated technology with extremely compact dimensions.
Smart Cameras S100 / S50 are equipped with Zynq® architecture from Xilinx, so a FPGA and a CPU onboard for a powerful Image Processing. This makes the S100 / S50 a "All in One" product: the CPU that processes data, captures images, performs the check-ups required by the application, and sends the results to the user's machine. The internal FPGA manages directly acquisition and pre-processing, to reduce CPU workload. CPU will be exclusively dedicated to the image analysis. The S100 has a Dual Core processor, while S50 has a Single Core processor, both with an FPGA of 28 KLEs.
S100 / S50 Series is available with CMOS sensors with resolution of  VGA, 2 MegaPixels e 4 MegaPixels, with an acquisition speed from 250 fps for VGA sensor, to 35 fps for 4 MegaPixels sensor. The speed can be further increased by partializing the acquisition, therefore reducing the size of the image (windowing).
The camera is equipped with a series of communication interfaces:
1 Gigabit Ethernet port.
1 RS232 / RS485 serial port.
2 digital inputs.
2 digital outputs.
2 Strobe outputs.
All the communication interfaces are handled by FPGA, in order to ensure "real time" management.
The computing power, due to the Zynq® architecture which enables you to capture and process images at high speed, makes S100 / S50 a top range product on the market in regards to performance level, despite its compact size.
S100 / S50 features a cut of Linux, the open operating system, therefore the customer can create the application using Tattile' software or third party compatible software/libraries.
Smart Camera has a storage capacity of 8 Giga, thanks to its SD card.
The IP67 enclosure rating allows its installation in strict and difficult environments, such as in the presence of dust, dirt and water.
Key points
High Performance: Dual/Single Core Cortex-A9 processor and Xilinx Artix7 28 KLEs FPGA
Multiple resolution: VGA, 2 and 4 Megapixels global shutter CMOS image sensor
High speed acquisition: up to 250 fps for VGA resolution
Open system with Linux O.S.
Compact size: only 45x45x41 mm
IP-67 Rated enclosure
Complete interface and communication capabilities: Gigabit Ethernet, digital I/O, RS232/485 serial ports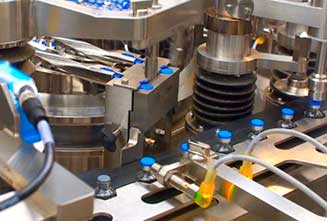 Packaging
Automitive
Measurement
Robot Industry
Cosmetics/Pharma
Architecture
The S100 Smart Camera features a Dual Core Cortex-A9 800MHz CPU and a Xilinx Artix 28K Logic Cells FPGA working closely together.
The S50 Smart Camera has a Single Core Cortex-A9 800MHz CPU and a Xilinx Artix 28K Logic Cells FPGA,
Thanks to Tattile's technology based on FPGA, these smart cameras can guarantee the real-time execution of critical functions such as image capture, image pre-processing, and I/O.
High-Speed acquisition
The S100 allows high-speed acquisition, from 250 Fps for VGA sensor up to 35 Fps for 4 megapixels sensor.
The S50 has an acquisition speed 120 Fps with VGA sensor.
The frame rate of the cameras can be further increased thanks to the windowing features: capturing only a portion of the sensor allows higher frame rates for smallest regions of interest.
FPGA
The image acquisition and image preprocessing are performed by dedicated FPGA in real time.
Open System
Thanks to the use of a cut of Linux O.S., it is possible to develop Vision Application with Tattile' software or third party library/software.
Interface and Communication
The integration of the S100/S50 Smart Camera is made easy by the full-featured set of interfaces available: Gigabit Ethernet, RS232, RS485, 2 inputs, 2 outputs, and 2 strobe outputs.
IP-67
IP-67rated housing of S100/S50 Smart Camera allow to be installed even in harsh environment.
Compact size
Thanks to its compact form, it can be easily integrate into any machine and production line.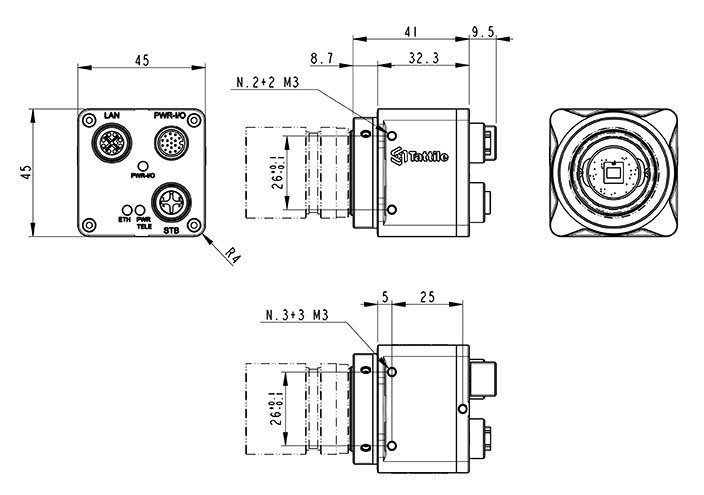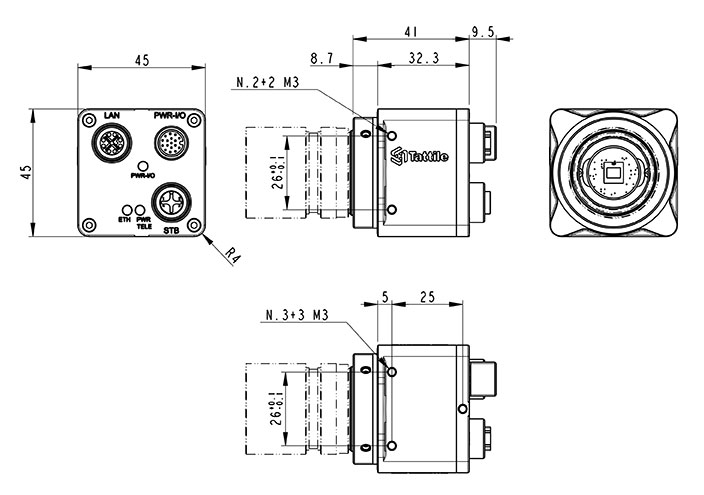 DEVICE
S50
S100
S120
S130
Resolution
640x480
640x480
2048x1024
2048x2048
Frame rate
120 fps
250 fps
70 fps
35 fps
Sensor type
1/3" CMOS
1/3" CMOS
2/3" CMOS
1" CMOS
Sensor model
CMV300
CMV300
CMV2000
CMV4000
CPU
Single Core ARM Cortex-A9 800MHz
Dual Core ARM Cortex-A9 800MHz
System RAM
512 MB
Flash Memory
Secure Digital 8 GB (up to 32 GB)
FPGA
Xilinx Artix-7 28K LEs
Lighting direct channel
2
Strobe output
2
Digital inputs
2
Digital outputs
2 PNP
LAN
Gigabit Ethernet
Serial port
RS232-RS485
Internal Protection
IP67
Lens
C-mount
Operating system
IEEE 802.3 af
Power supply
Linux
Power consumption
4.5 W
| | |
| --- | --- |
| F01623 | S50 SMART CAMERA 640×480 MONO |
| F01624 | S50 SMART CAMERA 640×480 COLOR |
| F01616 | S110 SMART CAMERA 640×480 MONO |
| F01617 | S110 SMART CAMERA 640×480 COLOR |
| F01618 | S120 SMART CAMERA 2048×1088 MONO |
| F01619 | S120 SMART CAMERA 2048×1088 COLOR |
| F01620 | S130 SMART CAMERA 2048×2048 MONO |
| F01621 | S130 SMART CAMERA 2048×2048 COLOR |